Jaywalker

May/June 2004

Volume Two, Issue Two

"Fools"
On The Menu
Ignorance of the time is not a defense.
Anecdote by Beate Scheffler.
Foolin' around with your doodles!
A look at The Dictionary.
At home with Sally Chupick
A little venting by J.P. Rayne
Wordsmith's Intersection/Inspiring Places
Homegrown poetry and prose.
Inspiring Places: The Lost Fools of Grand Bend
Chameleon by G.G. Falderal

Untitled By Eriana Letaine Marcus
Animal Noises.
Our original monthly "crypt-ish" crossword.
Sarcastio's unfortunate fortunes.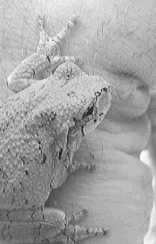 A toad seizes control of our publisher.