Visitor Comments
This page is your opportunity to comment - whether publicly or privately - on all matters related to Jaywalker website or magazine. There are many, many blatant errors of many, many kinds - including ridiculous factual errors - so PLEASE help this project along by pointing them out!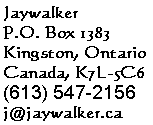 ...and include whether you would like your comment to appear on this page or in the printed form (not all comments can be added).
NOTE: Attachments to your email will not be opened, and lengthy commentary will likely be abridged.