Jam Makers Special Edition

Mark Bond's

Debut CD

This month, we're pleased to feature a

segment from pianist Mark Bond's first-ever

solo CD titled "Outlines", a classically

influenced collection of original music. Mark

describes his album as atmospheric and contemporary, with a

definite

moody soundtrack feel.

The bars you see below are from the piece "For Pleasure", from the CD.

Congratulations and good luck

from all of us

at Jaywalker magazine, Mark!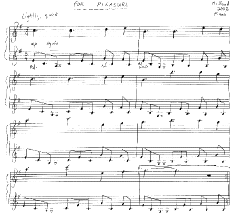 Click on the image for a bigger view.
Back to February 2004 Jaywalker