The Seven Veils of the Onion
By John D. Casnig

The onion is an illuminating bulb. But only by peeling its many layers, can one reveal whether it has a sweet heart or a rotten core. Suspense: thy metaphor is onion!
The onion is used metaphorically to describe sequentially removable layers that conceal an important something. That is, when we use a metaphor involving an onion - such as "peeling away another layer" - we visualize a central concept (a heart or core) that is buried beneath an organized series of increasingly central issues or arguments.
One progresses inward in understanding from surface issues to deeper truths. When we "get to the bottom" of something - finding its "root" or "kernel" of truth - we are finally exposing that which is most shielded from view. This differs from "opening one's eyes" or "letting some fresh air in", in that the onion offers a series of seemingly valid mistruths, rather than a singular misconception. This also differs from a "higher truth" in that each step in a heightened understanding does not totally invalidate the prior; rather, it reveals that it was simply incomplete.
There is nothing of material value between each layer of a metaphorical onion: it is treated as skin upon skin, fortification upon fortification. When an "onion of a story" is formed, we beckon for that certain something that one is "hiding from us", "not letting us in on", "not disclosing" or "not revealing". We will approach the matter "from another angle", in the hopes that this will reveal underlying issues or help us gain further insight. And we may often angrily say "chaff!" when rejecting a given unwanted layer, as if an onion is a scintilla of nutritious truth surrounded by unwanted, unpalatable, irritating dross. In the onion metaphor, that which is not deemed the central truth has no lasting value.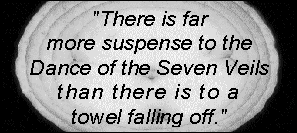 The difference in metaphorical tone between a "shell", and its singular breakable encapsulation, and "onion" and its many concentric strippable encapsulations, is one of simple fortification versus duplicity. Compare the "just under the surface" nature of a hidden truth behind such metaphors as "blanket", "cover", "veneer" or "shield" with the intrigue offered by the many layers of an onion, each layer a wee bit "closer to the truth". There is far more suspense to the Dance of the Seven Veils than there is to a towel falling off.

The onion is commonly used as both a metaphor and a simile, with little - if any - difference in the example it sets. It is emptied of its strong flavor, medicinal value or tear-causing reputation and used as an exclusively geometric form.

Unlike many fruity metaphors, the onion is not used as if bearing a central nutrition or seed of life under a simple, necessary level of protection, but rather as a series of false cores, the end of which is likely to offer a truth that is often not so palatable. While the

veils of a strip-tease may necessitate a journey through undesirable layers towards the desirable beautiful core, an ugly corporate secret may be veiled away beneath layer upon layer of progressively less-beautiful mistruths. The duality of the veil is that it can both uglify the beautiful and beautify the ugly. The veil is that layer of onion - flimsy and translucent enough to beg for a deeper investigation.

The onion, then, describes the progression, rather than the destination; requiring a separate tone to distinguish the nature or value of the destination itself. It is a road - a choppy road to an uncertain, secluded destination. Whether a journey along this road results in good news or in bad news, it always results in truth, however dicey.

The onion is the stripper of metaphors - layer upon layer of mystique with no certain end. The truth is, it is the journey to the core that makes the tease.

J.D.C.


Back to Jaywalker January 2004

Back to J.D. Casnig

Back to Essays