About...
But is it art...?
But is it art..?, an original Jaywalker column, is a rhetorical study that evokes readers to explore themselves rather than the artwork itself. Each edition brings forth material that is divisive, if not downright controversial, and is presented in a series of comparisons to help guide readers to healthy debate and re-evaluation. There are no right or wrong answers
The debut issue featured a simple photograph of a repaired walkway in downtown Kingston. This caught the photographer's eye as having just enough composition to potentially lure the "nays" over to the "yea" side, while providing mathematicians with some eye candy. It appeared in October 2003, and although pedestrian in feel, it was a first step on a path to success for this column.
Alfred Bader reportedly cannot understand abstract art. In November's issue, created in recognition of his philanthropic achievements, we felt we should present a question that could help readers relate to Dr. Bader. The random splotches of paint prevalent in Jackson Pollock's work made perfect fodder. Lacking the funds to acquire real Pollock images for the issue, we decided to use two in-house shots of spilled soda on sidewalks. Living near the downtown core made finding subject spillage incredibly easy.
December brought Christmas, and with it sales flyers. With these flyers came the next subject of But Is It Art? Is art that was made exclusively for advertising actually art? It was a very engaging question. We had a lot of fun putting that one together, with a mock subliminal ad encouraging readers to drink, and a stock photo of an anglerfish that was just plain silly.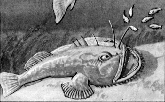 The

But Is It Art?

Mascot

(and his pals)

In the New Year, we decided to follow the theme for the issue more closely. The theme was "dreams" and our quite natural question revolved around "dream painter" Salvador Dali and surrealism. It was also a way to commemorate this year's 100th anniversary of his birth, though we were never really that close to him.

February 2004 marked the fifth edition of But Is It Art? We had a few more colour ads than would fit on the back cover, and we strongly avoid putting ads in the Front & Centre and Wordsmith's Intersection - but we don't think twice about placing ads with our own content!

This meant that we could finally properly introduce the colourful mathematical artwork of fractals in But Is It Art?; something that we were eager to try for months. It was a very good match for the vibrant jewel tones adorning Front & Centre guest Cheryl Pelow, and was also part of an experiment in printing both sides in colour using our print technology.

The future of But Is It Art? is wide open. There are dozens of great questions on our list, and we keep dreaming up more. We also plan to do a music-oriented version of this column one day, but we're keeping that day a surprise!

Back to March 2004 Jaywalker