j
We are back!!
Well, sort of...
This is an archival site for the Jaywalker Magazine of the Arts, published in Kingston, Ontario in 2003 and 2004..
We've started putting up some
NEW CROSSWORD PUZZLES,
starting with the 12 and only
Jaywalker Free 'n Easy Interactive Crosswords
-------------------------
See the too-cute-for-words Baby Squirrel Movies everyone (in our house) has been talking about!!
And the new Wild Kitten Videos!
-------------
We hope to be reviving the whole Jaywalker site after the summer, with many exciting changes - including free rides, a petting zoo and gross exaggerations!
Meanwhile...
Enjoy our popular recipe:
"Jaywalker Magazine's Easy Dry Garlic Spare Ribs"
We hope you relish them as much as we do.
History
The beautifully printed version of the Jaywalker has been suspended until finances, fortune or fame improve. We thank those generous sponsors who supported us, and our loyal readers for encouraging us. We'll try our best to continue the online version, which will be published on an awkwardly continual basis.
John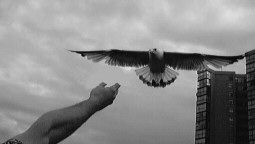 Our publisher has run out of bread, and has begun
appeasing the Upworld by feeding it "human fingers".
Give him a hand!